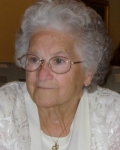 My aunt Flossie was the center of our family. The one who made meatballs, over decorated for Christmas, was strict and permissive at the same time, took care of every kid that came within range, made orange soda slushies while we watched Dukes of Hazzard, was the original home crafter before it became an industry, raised her family almost single-handedly, opened her home to us, and was constant and ubiquitous in our lives. Until today.
Florence E. Franklin
May 7th, 1928 – April 24th, 2012

Florence Franklin, 83, of Manassas Park, passed away April 24th, 2012 at the Oak Springs of Warrenton.

Born May 7th, 1928 in Washington, DC she was the daughter of the late Edmund and Mildred Nash Cowan. On June 29th, 1946, in Washington, DC, she married Samuel Eugene Franklin, Sr. who preceded her in death on November 14th, 1976.

Mrs. Franklin has been a resident of Manassas Park for over 53 years. She is a member of the Manassas Park Women's Club, and was awarded the Manassas Park Citizen of the Year award in 1998.

Besides her husband and parents, she was preceded in death by one sister, Lorraine Nichols. Survivors include her four children, Samuel E. Franklin, Jr. and his wife Judy of Manassas; Sue Ann Masarick and her husband John also of Manassas; Debora Marie Kelly of Manassas; and Christopher James Franklin and his wife Nikki of The Plains; three siblings, Edmund H. Cowan, Jr. and his wife Betty of Clearwater, FL; Mildred Martin and her husband Marvin of Warren, MI; Eugene Richard Cowan and his wife Sally of Fairfax; eight grandchildren and six great-grandchildren.

Memorial contributions may take the form of a donation to the Alzheimer's Association, National Capital Area, 11240 Waples Mill Rd., Ste 402, Fairfax, VA 22030.